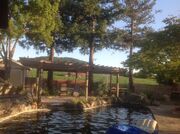 Hello amazing tree master gurus,
Imagine yourself ten feet off the ground! An amazing view of the Napa vineyards. Well of course it would be from one of your amazing tree house creations. We house the perfect property for an episode of "napa style" tree house masters.
Two amazing redwood trees supporting innovative engineering to transcend our napa valley lifestyle to coincide with our laid back family. Located in the Coombsville district we think full bodied cabs for inspiration.
I'm thinking of wine tasting and maybe sleepovers for family and friends...Napa style. We are even growing giant pumpkins in our yard from Gary Miller "seed" the grower of the second largest pumpkin in the world!
So let me know when you will arrive to start our project,
Leslie McNamara
Pages in category "Treehouse Masters"
The following 12 pages are in this category, out of 12 total.
Ad blocker interference detected!
Wikia is a free-to-use site that makes money from advertising. We have a modified experience for viewers using ad blockers

Wikia is not accessible if you've made further modifications. Remove the custom ad blocker rule(s) and the page will load as expected.